Keep up with news and events on the lines once served by the I&M Rail Link by subscribing to Iowa, Chicago & Eastern Discussion List. The mailing list is maintained by Matt Frahm and myself through Yahoo! Groups. Any discussions or questions are welcomed, but please refrain from threads regarding labor agreements and management philosophy.


Click to subscribe to the ICErail List
The IMRL Discussion List was quite active while the I&M Rail Link was in operation. Currently the list is an invaluable resource for researching the history of this short-lived railroad. Occasionally old train line-ups and engine dispositions are posted.

Click to subscribe to the IMRL List
I also moderate another mailing list on Yahoo! Groups called IlliniRail. It is dedicated to discussing railroading, past and present, in northern Illinois. All topics are open for discussion pertaining to this region.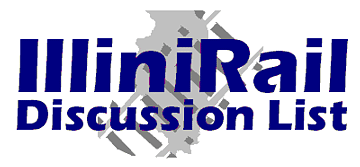 Click to subscribe to IlliniRail
Washington Corporation Rail Group
IMRL Photographs (Photos of IMRL Hoppers by Mike Farrell)
Chicago Rail Photographs (Link to IMRL Photos)
Milwaukee Road Historical Association
Soo Line Historical and Technical Society

Please Cross Tracks Safely!
The I&M Rail Link is rather new in the railroad arena and therefore there isn't much reference material available as of yet. However, a couple of magazines have published articles about it and at least one book covers their motive power.
TRAINS Magazine: I&M Rail Link, A Railroad of Contrasts by Steve Glischinski. September 2000 issue. You can read the article online at findarticles.com.
Great Northern Pacific Publications: MRL Locomotives and Rolling Stock by Robert Del Grosso and Richard Yaremko. While covering the Montana Rail Link, a complete guide to the I&M Rail Link's motive power is added as a supplement since both railroads are controlled by the Washington Corporation.



©1998 JGKirchner
Revised November 24, 2003