| | | |
| --- | --- | --- |
| | Surviving Illinois Depots | |
In the golden age of railroads, passenger depots once dotted the nation serving both railroad and community. With the advent of interstates in the 1940's much of the passenger traffic dwindled in the next two decades. By 1970 passenger rail was no longer profitable for railroads and many dropped routes as fast as the ICC would grant it. Unfortunately, many of the depots that helped build communities throughout the U.S. were no longer needed and they were torn down or left to decay. However, some agencies were retained for other railroad use, purchased by private individuals, or donated to the communities. The following depots are still in existence today. Their use and condition is noted when possible. Depots currently used by Metra commuter service are not listed.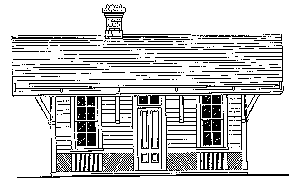 ---
Updated November 19, 2011
Copyright 2008 IlliniRail.com

Hurrah for the flag of the free.....