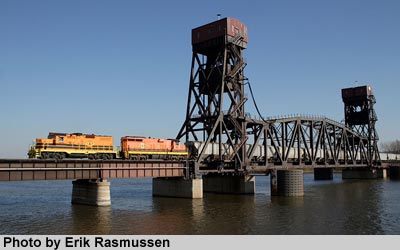 The Illinois & Midland Railroad began operations on February 9, 1996, when it purchased the assets of the Chicago & Illinois Midland Railway Company. Trackage extends 120 miles from Peoria to Springfield, IL. Principle commodities include coal, agricultural products and building materials.
The Tazewell & Peoria Railroad began operations on November 1, 2004, by leasing the assets of the Peoria & Pekin Union Railway from its owners Canadian National, Norfolk Southern and Union Pacific. The T&P operates terminal trackage between Peoria and Pekin, IL. Besides interchange traffic, other commodities include machinery, agricultural products and metals.
The I&M and the T&P are both owned by the Genesee & Wyoming, Inc.
This page is not affiliated nor sponsored by the Genesee & Wyoming, Illinois & Midland nor the Tazewell & Peoria.
---