[ Home ] [ Locomotive Roster ] [ System Map ] [ System Timetable ]
Railroads use timetables to provide information to employees and passengers alike. Public timetables typically provide arrival and departure times of passenger trains. Employee timetables, while providing train schedules, also contain information about the territory the employees operate over. Some of this information includes: station names & locations, maximum speeds, radio frequencies, signal aspects & indications, and other special instructions.
The Chicago Central and Pacific was divided into two divisions, the Eastern Division and the Western Division. CC&P Employee Timetable # 4, dated April 5, 1992, lists seven subdivisions. The Two Divisions and their Subdivisions are outlined below.
The Cedar River Railroad was the wholly owned subsidiary of the Chicago Central and Pacific and operated as a separate division. CEDR Employee Timetable #1, dated February 9, 1992, lists two subdivisions which are outlined below.
Click on a track segment for more detail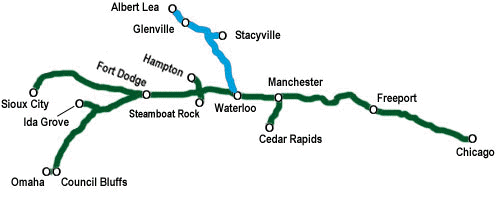 Map provided by Eric Coleman
KEY:
Chicago Central and Pacific Railroad
Cedar River Railroad
---
©2002 JGKirchner
Last Updated April 27, 2005