Bloomer Shipper's Connecting Railroad Co.
The Bloomer Shippers Connecting Railroad Co. (aka The Bloomer Line) operates two connected lines in central Illinois. The first one is from Colfax to Kempton, IL, and the second is from Strawn to Gibson City, IL. Traffic is primarily grain, fertilizer, plastics, and lumber. They are headquartered in Gibson City. The railroad connects with the TP&W at Chatsworth, IL, and the Norfolk Southern at Gibson City.
The former Illinois Central line was originally built by the Kankakee & Southwestern Railroad in 1878 and eventually became the Illinois Central's Bloomington District. In 1985, face with abandonment of the line, shippers formed the Bloomer Shippers Railway Redevelopment League and purchased a segment of the line from Barnes to Herscher, IL. Railroad operations began in June of that year on 36 miles of track between Colfax and Kempton, IL.
In 1990, the Norfolk & Western was also looking to divest itself of less profitable lines in Illinois. The Bloomer, in May of that year, acquired a segment of the former Wabash's Chicago-Decatur route between Strawn and Gibson City, IL.
Locomotives Currently On Roster

Photo
Number
Model
1st #
2nd #
3rd #
4th #
5th #

6th #

7th #
BLOL 7504
GP10
IC 9222
ICG 8222
GMSR 8222
MSRC 1083
OHCR 704

SPCX 704

BLOL 704
BLOL 7549
GP10
NYC 5943
NYC 7515
PC 7515
PC 7343
CR 7343

CR 7549

BLOL 7561
GP10
NYC 6002
NYC 7402
PC 7402
CR 7402
CR 7561
BLOL 7591
GP9
NP 370
BN 1949
BLOL 91
LTEX 1413
GP15-1
CR 1627
NS 1413
LTEX 1413 is leased from Larry's Truck Electric.
Locomotives No Longer On Roster

Photo
Number
Model
1st #
2nd #
3rd #
4th #
5th #

BLOL 55
SW1200
MP 1155

BLOL 92
GP9
NYC 5968
NYC 7368
PC 7368
CR 7368
BLOL 55 sold to Central Soya at Gibson City, IL.
BLOL 92 sold to an Taloma Farmer's Grain at Allen, IL.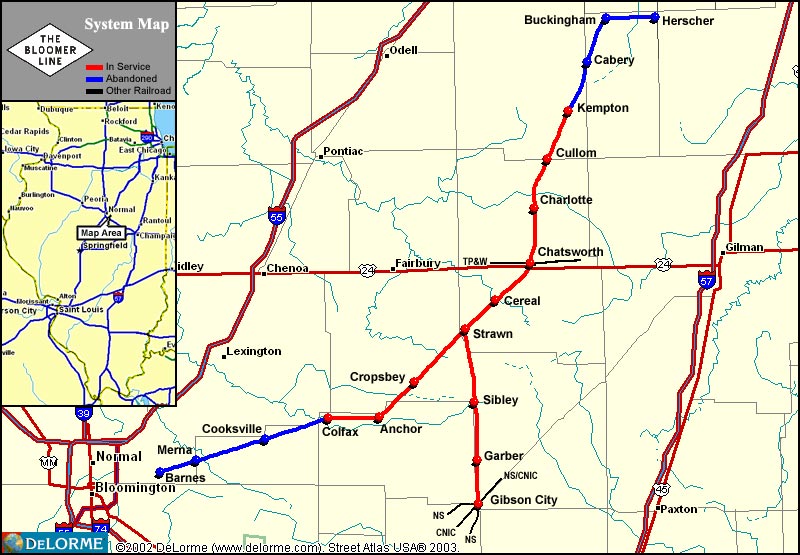 Radio Frequency: 161.355
Address: Route 9 West
P.O. Box 546
Gibson City, IL 60936
Reporting Mark: BLOL
Updated November 12, 2008
©2008 IlliniRail.com